We offer Gluten Free Breakfast…they say. We offer allergy friendly breakfast menu items…they say. Come and check out our new and exciting GF options…they say.
YOU DON'T HAVE GF WAFFLES???…I SAY!!
My experience at many, many restaurants have left me feeling defeated and depressed. When Gluten Free options are advertised…Especially for Breakfast..I experience dreams and aspirations of a glorious baked good blowout.
Only then I find their options include…EGGS.
REALLY?!
You are lucky if they offer a good GF bread and you really hit the jackpot if there are decent pancakes.
Walking away, I feel empty and dejected….thinking to myself, 'I could do better.'
I understand eating out grain-free is a pipe dream, but I always hold out for someone brave to make something delicious that is Gluten Free.
And what is worse is I KNOW….I CAN do better. So I did.
And here it is.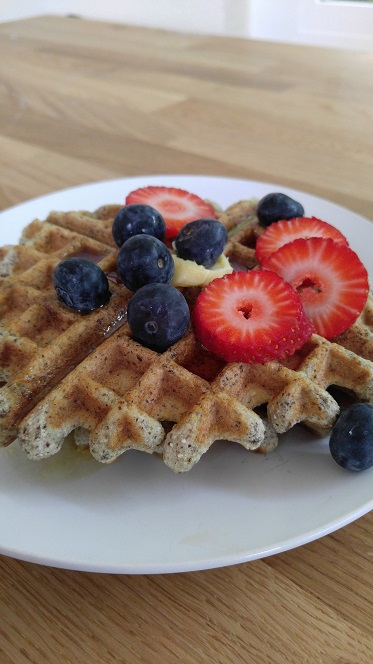 | | |
| --- | --- |
| | |
Sift Coconut Flour, add in rest of dry ingredients, set aside

Melt Butter, stir in remaining wet ingredients immediately

Add all ingredients and blend in blender or vigorously by hand

Cook on Medium High Heat in waffle maker
You will notice there are weights for flours instead of cups. Weighing flours in Gluten Free or Grain Free is ESSENTIAL. Flours are typically heavier than traditional gluten containing flours. Always allow yourself more liquid if batter starts to set up and get too dry.