These muffins are a staple in my family's daily diet. They are crazy nutritious and delicious! Easy to bring anywhere, they are sure to be that perfect inbetween-meal…meal. Full of fat and fiber they are super filling. Easy to freeze, if you can before you or your loved ones devour them!!!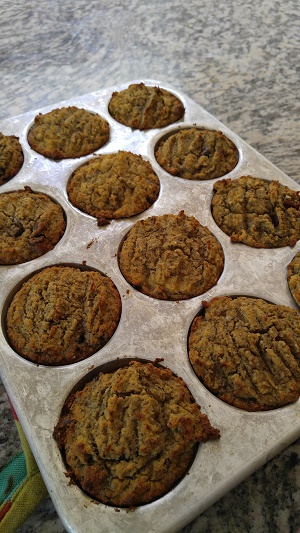 | | |
| --- | --- |
| | |
Melt butter and add in maple syrup

Mix eggs and milk together, then add in butter/syrup mixture
Dry Ingredients, Extras & Final Prep
SIFT together coconut flour, cinnamon, baking soda, and salt

Stir in Chia seeds and flax seeds into muffin dough

Stipple batter 3/4 full into greased muffin pans (basically your batter won't be smooth in the cup, it will look rough and rugged)

Bake at 375° for 35-45 minutes. You know they are done with tops start to brown and when touched will 'bounce' back.
Instead of blueberries, you can adapt these muffins in many ways! Really, let your imagination run wild. Here are a few that I have tested and the family loves!

Carrot and Raisin 1Cup Shredded Carrots & 3/4 Cup Sulfite free raisins

Cranberry Orange 1 Cup unsweetened frozen cranberries (thawed and minced) & zest of 2 oranges

Banana and Cacao Chip (chocolate) 2 Bananas mashed & 1/2 cup Cacao Chips
Baking Paleo is very different than traditional baking. Due to the fact that the flours are much heavier and you are using a lot of eggs, they 'dehydrate' as much as they bake. Depending on the wetness of your final batter, (mine is usually much drier than traditional batter), will affect how long to fully bake them. After a couple trials, you will figure out which consistency works best with your oven and your brand of coconut flour. (yes, that makes a difference)