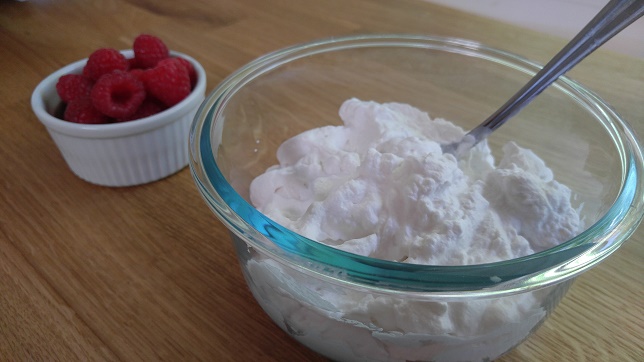 This easy-to-make, must-have-staple will be used frequently when you commit yourself to a dairy-free lifestyle.  I seriously, do not miss real whipping cream any longer.  The benefits of Coconut Milk are numerous, the MCFA's (medium chain fatty acids) are wonderous and do not increase inflammation in the body like dairy does!  I have a couple tricks up my sleeve that have made this process a little easier than when I started.  So, please whip it up and enjoy!! read more
Warning
: Trying to access array offset on value of type bool in
/var/www/wp-content/plugins/wp-ultimate-recipe/helpers/models/recipe.php
on line
251
| | |
| --- | --- |
| Servings | Who knows??? If you are crazy for this stuff, it may be a one man show, unless you are feeling generous...:) |
| | |
| --- | --- |
| Servings | Who knows??? If you are crazy for this stuff, it may be a one man show, unless you are feeling generous...:) |
Empty contents of Coconut Cream into your 'frozen' bowl

Add in Vanilla and Maple Syrup

Whip, Whip it good! For at least minutes until you have stiff frothy peaks!

Serve and enjoy...or just pick up a spoon and go for it!!
The key to success in this recipe is all in the preparation.
I have tried almost all coconut milks out there and have found Trader Joe's Coconut Cream to be the best option with the best turn out and least waste.
Also, the longer you refrigderate...the better.  Many sites will say 24 hours, but really I find again that anything after 48 is best.  Also, if you are in a pinch and forgot to do this ahead of time, you can always throw in the freezer for 20-25 minutes.  Just want to make sure contents have thoroughly cooled (not froze) before whipping.
Lastly, this trick has been handed down to me by my mama.  Before you whip your cream, freeze a metal bowl for about 20-30 minutes.  This will ensure that your cream stays cool while you whip the crap out of it!