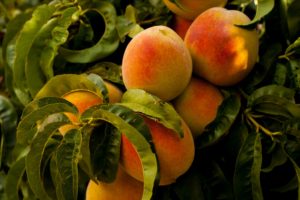 So, it is the middle of summer and my family and I are craving all things Fall.  Why, you ask?  No idea…
Maybe since moving to Southern California from Minnesota, we miss the seasons.  I have been told we have 4 seasons in So Cal, but I have yet to see them…at least not in the drastic manner in which we were used to back in Minnesota.
Pies, crumbles,crisps, mulled spices, anything pumpkin or apple consumes our thoughts and I did the only thing I could think of that is fast.  Peach and Pear Crisp.  I haven't set out to make this grain free yet, and I will!  But this worked in a pinch!  And in the healthiest manner possible!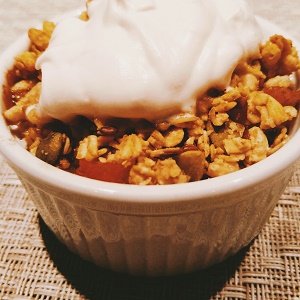 Passive Time

10-15

Minutes
Passive Time

10-15

Minutes
Mix cinnamon, cloves, sugar, salt, and arrowroot flour together and set aside

Drain Juices from jars of peaches and pears chop up entire jar of peaches, chop 1/2 jar of pears stir together and add in dry mixture, fold in lightly until all mixture is incorporated

Distribute evenly in small ramekins (I prefer small ceramic ones) Top with granola

Distribute butter between ramekins on top of granola Place ramekins on baking dish(this prevents spillage in oven!)

Remove, let cool for 10-15 minutes

Top with Coconut Whipping cream and enjoy! (see link below for recipe)
If you cannot use the brands that I have listed above, it is NOT a deal breaker.  These are just the best possible and healthiest versions that I have found through all of my years of research and testing.  With regards to canned anything...avoid corn syrup whenever possible.  And your sugars should be the least refined if possible.  Most of all, use your common sense.  If it has too many ingredients and ones you do not recognize as FOOD, avoid it.
Granola won't brown and therefore cannot be used as an indicator of done-ness.  Instead, look for bubbling along sides of ramekin.
Coconut Whipping Cream is optional and recipe can be found here
https://eatthewholeegg.com/recipe/coconut-whipping-cream